Wilbur Hah M.D. is honored with a 26 years of practice in facial plastic and cosmetic surgery, serving clients in Southeast Texas and Southwest Louisiana. Dr Hah is Triple Board Certified by the American Board of Facial Plastic and Reconstructive Surgery, American Board of Cosmetic Cosmetic Surgery and the American Board of Otolaryngology / Head and Neck Surgery.
Dr. Hah was recently elected by his peers to serve as President of the American Board of Cosmetic Surgery (ABCS.) ABCS is the only Board that has certifying Safe Cosmetic Surgeons for over 40 years.Dr. Hah has served for last 10 years as an Oral Examiner, testing other plastic and cosmetic surgeons for their board certification.
Dr. Hah was also named President for 2014/2015 of the American Society of Cosmetic Breast Surgery.  
Due to advances in technology and surgical technique over the last 15 years, Cosmetic Surgery and Plastic Surgery are NO LONGER the same. Click  here to see differences in training of Board Certified Cosmetic Surgeons and Board Certified General Plastic Surgeons.
  Cosmetic Surgery has now advanced to be a  more specialized discipline than General Plastic Surgery. Dr. Hah does not perform reconstructive general plastic surgery.  So Dr. Hah is NOT (and has no desire) to be a Board Certified Plastic Surgeon. He is a Board Certified Cosmetic Surgeon.
Dr Hah is especially honored to be a founding member  and an advocate of Cosmetic Surgery Patient Safety  ®  Certification  We want to showcase our strong proactive safety commitment to our clients front and center.   As a commercial pilot for over the last 20  years, Dr Hah has witnessed how strong proactive commitment to advancing safety has made commercial flying safer than ever.   Patient Safety has to be highest priority in cosmetic surgery.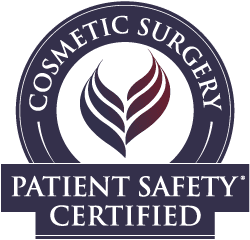 Since 2011, Dr. Hah has been invited to serve numerous times as a live surgical instructor in breast augmentation and breast lift procedures by one of his most experienced mentors, Tony Mangubat MD, in Seattle, Washington. From July 2011 to September 2019, Dr. Hah repeatedly served as an invited lecturer/instructor at St Louis University Medical School / Nayak Plastic Surgery Center .
 Hah was recently honored to serve as Course Co-Director for this most advanced anatomical facelift conference/live surgery workshop hosted by his esteemed colleague, Dr. L. Mike Nayak, one of the best facial plastic surgeons in the United States. 
After completing undergraduate  studies in economics and computer science studies at Austin College and a graduate finance degree at the University of Dallas, Dr. Wilbur Hah met his wife Dr. Marian Chen-Hah at the University of Texas Medical School in San Antonio. In medical school, Dr. Hah was elected to the prestigious status of Alpha Omega Alpha–graduating with high honors in his medical school class. He was ranked #1 in his medical school class of 188 physicians for clinical training with straight honors in pediatrics, ob-gyn, internal medicine, medical subspecialties, psychiatry, general surgery, and surgical subspecialities.   While at UT medical school, Dr Hah was privileged to have been chosen as interim research database director at the Humana International Craniofacial Institute for Dr Kenneth Salyer, a world recognized craniofacial plastic surgeon who pioneered and who did incredible
work for correction of craniofacial birth defects, cleft palates, and cleft lips in children.
Prior to starting his practice in Orange in 1995, Dr. Hah completed post graduate training in general surgery/head and neck surgery residency for otolaryngology and facial plastic surgery at the University of Arkansas for Medical Sciences.  Dr. Hah also did a dedicated preceptorship in Facial Cosmetic Surgery under direction of Dr. James English, at the English Facial Plastic and Cosmetic Surgery Center in Little Rock, Arkansas.
Dr. Hah is often invited to sit on expert panel discussions in liposuction, tummy tuck, breast augmentation, and facelift procedures. He has established a national reputation for high quality, meticulous work and a dedication to patient safety in cosmetic surgery education.
Dr. Hah is especially pleased to have completed a customized two-year cosmetic surgery training fellowship in Minimal Invasive Cosmetic Breast Augmentation with numerous nationwide industry professionals:Peter Cheski, MD in Beverly Hills, CA,  David Hendrick, MD in Salina, KS,  and Tony Mangubat MD in Seattle, WA.
Dr. Hah furthered his expertise in traditional breast augmentation and lifting procedures with Dr Gerry Edds in Owensboro, Kentucky .  Another outstanding mentor who help to train Dr Hah is Dr. Ted Eisenberg in Philadelphia, PA, who not only operates the busiest cosmetic breast surgery practice in the Northeast, but also holds the Ginness World Record for Most Breast Augmentations Surgeries Performed.
Dr. Hah now exclusively dedicates his practice to Cosmetic Surgery. With his many years of experience in cosmetic surgery, he believes artistic intelligence is a key focus to achieve a natural and proportional appearance. Dr. Hah is passionate with his cosmetic work as an art form. He is most proud to provide advanced surgical precision coupled with an in depth artistic understanding of different body types and proportions to bring out one's natural beauty. 
Over the last 4 years, Dr. Hah was honored to be a volunteer plastic surgeon on medical missions to do free reconstructive surgery for children with burns, cleft lips, and facial and body disfigurement. These medical missions have broadened his service internationally to the Dominican Republic,
Paraguay, and Ecuador. 
When not working, Dr. Hah is happy catching up with his now grown-up daughters. His hobbies include reading, flight safety training, watching Netflix, listening to TED talks, playing with his dogs, and restoring (198o's era) cars and airplanes with his aircraft mechanic friends.